The integration of construction materials brings together the previously siloed worlds of electrical contracting and concrete.
While early in development, some specialized concrete is storing solar power and lighting up without a traditional electric source, while other concrete-based systems—such as roads and highways—incorporate electric coils to charge electric vehicles without plugging them in. Such smart materials provide cities and automotive enthusiasts with new ways to enjoy electric power without an outlet.
Dynamic EV charging
Can energy radiate from a road to power a moving electric vehicle? This premise is being tested or installed in limited ways around the world, with a goal of recharging electric cars, trucks and buses as they are driven.
With the system, energy flows from pre-assembled electric coils under concrete or asphalt to a receiver pad installed under the vehicle, propelled by electromagnetic induction. This way vastly increases charging access for EV drivers, and drivers no longer need to map out routes according to specific charging station sites.
Such a road-charging system could be powered by local electric substations or nearby wind and solar sites, thereby charging vehicles as they pass over the roadway. Installation will typically rely on electrical contractors.
Development has been underway for several years. The Indiana Department of Transportation (INDOT) and Purdue University are testing two pavement types with EV charging capacity—one flexible and one rigid—using this "magnetic concrete" design from the German company Magment.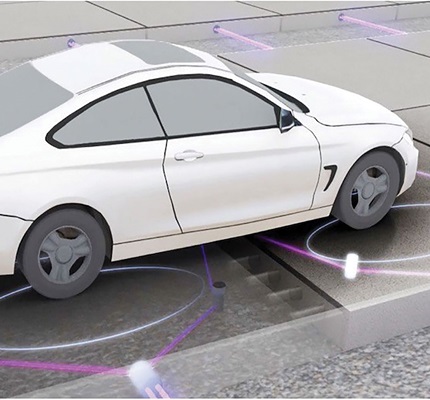 Integrated Roadways is among the companies developing smart road surfaces to charge electric vehicles wirelessly. Photo courtesy of Integrated Roadways.
INDOT is providing funding and technical support for the feasibility testing of in-pavement wireless charging on public roads for medium- and heavy-duty electric vehicles, said Natalie Garrett, INDOT's strategic communications director. INDOT's longer-term goals are to test the viability of the charging technology on public roads to determine if there is potential for large-scale, commercial use.
The project is targeting medium- and heavy-duty trucks because in-road charging could provide the greatest benefit for those vehicle classes. However, Garrett said, the technology could also be applied to passenger vehicles. So far, testing is being conducted in test beds in Purdue's laboratory setting.
"The project is ongoing. Laboratory testing began in mid-2022 and testing of a quarter-mile segment on a public highway is anticipated in mid-2023," Garrett said.
For the project, Purdue University buried two chargers in short pavement sections to test their ability to withstand typical highway weight loads of semi-tractor trailers.
"We use half a standard truck axle load, [9,000 pounds on two dual tires], to test these pavements, which is currently underway," said John Haddock, Purdue's professor of civil engineering and director of the Indiana Local Technical Assistance Program.
The idea, he said, is that "anything from a small car all the way up to a semi-tractor trailer can charge its battery from the pavement."
In addition to supporting the weight load, charging a tractor trailer is the greatest challenge.
"If you're charging a small car, it can be done with a relatively small charger, say 20 to 30 kilowatts, but to charge semi-tractor trailers moving at highway speeds—approximately 65 miles an hour—then the charger needs to be in the 200-kilowatt range," Haddock said.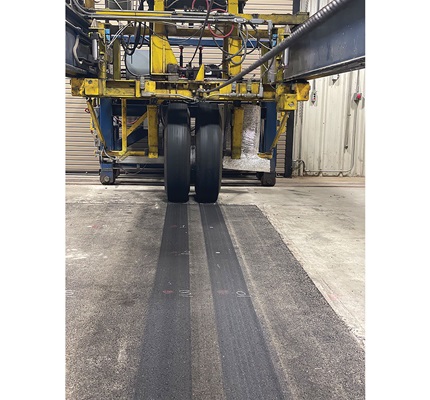 Dynamic charging concrete is being tested at Purdue University's Accelerated Pavement Test lab. Photo courtesy of Purdue University.
At the center of much of the technology development is Advancing Sustainability through Powered Infrastructure for Roadway Electrification (ASPIRE), a National Science Foundation engineering research center. This wireless charging academic and commercial research organization is dedicated to the commercialization of wireless charging systems. Its aim is to reduce transportation costs and improve energy efficiency with integrated roadways and parking structures.
The group includes academic contributors providing basic theory and science, technology suppliers that produce the wireless charging coils and controllers, automakers that want to implement the vehicle receivers and contractors that can build roads with wireless charging functionality.
As part of the effort, auto manufacturers are working with the ASPIRE group to create a standards-based system that could be installed on the bottom of EVs with the necessary software to allow the vehicle to "talk" to the road.
Existing charging stations would not be obsolete. Instead they may become part of a network in which charging units are available for drivers in the common areas where they travel. The electricity required for the pavement could come from a variety of sources. Installers could connect the coils to nearby substations, for instance, Haddock said, while stretches of road such as interstate highways in rural areas could draw from other sources such as wind or solar farms to provide charging.
In the meantime, at Purdue, "Since the project is still in testing in the laboratory setting, we don't yet have significant results. However, our initial testing has performed as anticipated, indicating that we'll be able to transition from testing in the lab to testing on a public highway segment," Garrett said.
Should follow-up testing on the quarter-­mile public highway segment generate positive results, the team will potentially pursue a one-mile test bed to gather further data.
In the meantime, technology company Integrated Roadways, Kansas City, Mo., has already deployed what is being known as smart pavement in Denver on Brighton Boulevard and in Lenexa, Kan., said Tim Sylvester, the company's founder and CEO. Earlier this year, Integrated Roadways also demonstrated wireless charging pavement in Detroit for Ford Motor Co. and Cisco.
"In the immediate term, these are technology demonstrations that show the capability of efficient and effective wireless in-road EV charging," Sylvester said. Automakers are now preparing to include the charge receivers in their vehicles.
Until recently, "It's [been] a chicken-and-egg problem, so we're using the other capabilities of smart pavement—data collection, wireless communications, edge networking and more—to drive delivery of wireless charging," for data acquisition. Eventually, he said, the time will come when "a significant number of vehicles have charge receivers," and the company will be ready with a network able to service them.
In the intermediate term, Integrated Roadways expects the most compatible vehicles to be ones that operate on short, local, fixed routes—such as transit vehicles, taxis and high-end personal vehicles for local commuters. Highly local adoptions will enable regional service areas to extend the coverage area where a small number of vehicles can operate. Regional adoption would then drive enough vehicle demand to eventually justify interstate service.
Integrated Roadways is one of the few ASPIRE members focused on the systems integration side of how to commercialize the technology, Sylvester said. In this effort, it is working with other association members such as Kiewit Corp., Schneider Electric and Ford to make delivering wireless charging as simple as possible.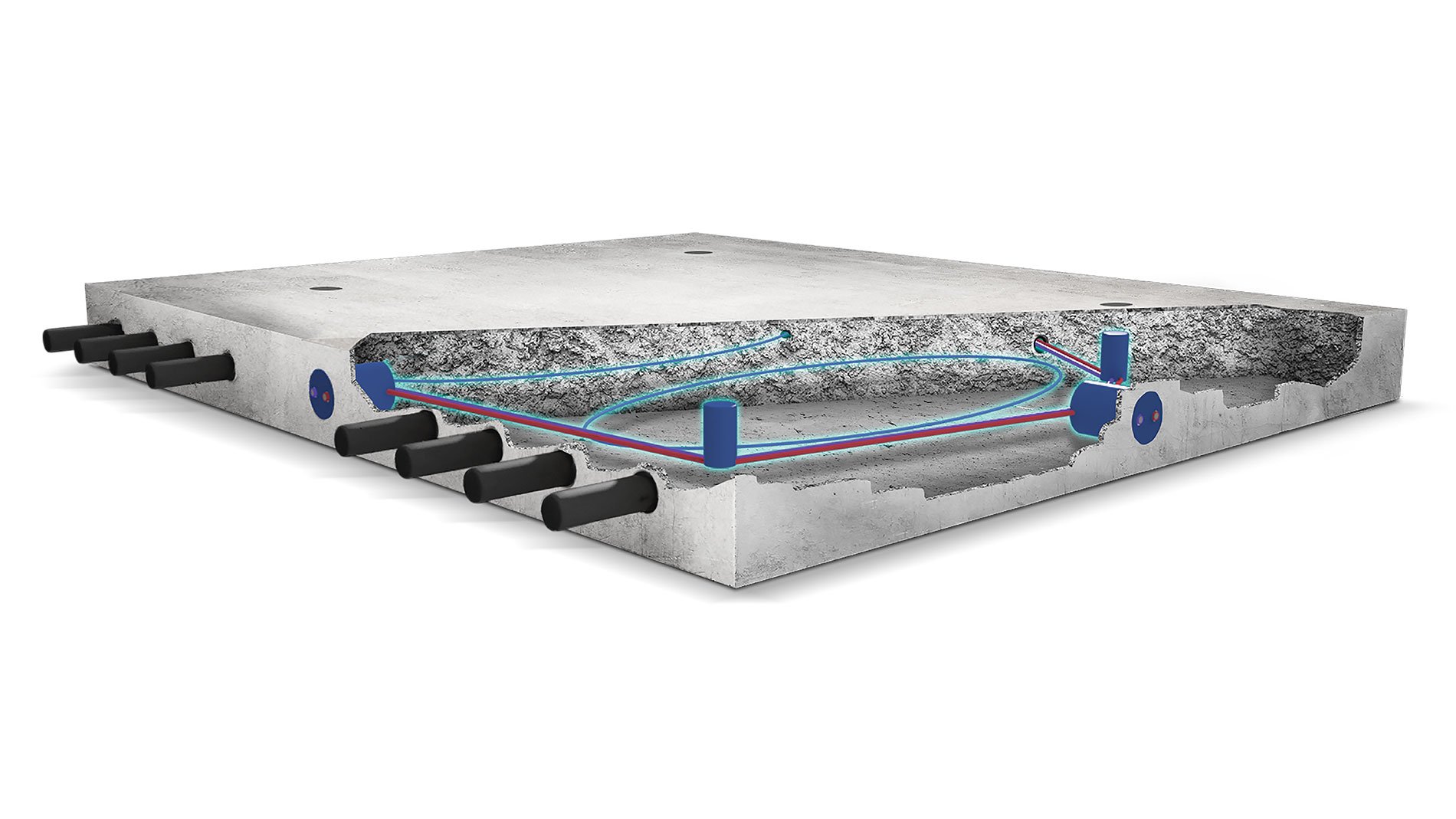 Slab section cutout from Integrated Roadways
Opportunity for ECs
"This is absolutely something that electrical contractors can get involved in," Sylvester said.
Integrated Roadways already works with public agencies authorizing the improvement, engineering firms doing the design, precast production facilities fabricating the pavement units and the contractors that install them.
In Sylvester's view, ECs have two major places to insert themselves: fabrication and installation. In the fabrication step, the precast facilities need expertise on the electrical systems assembly, wiring and more that precast facilities don't always have knowledge in. At the implementation step, contractors can complete all the wiring on behalf of the pavement contractor that also typically subs out electrical work.
"We think that wireless charging will be a huge new opportunity for electrical contractors to grow their expertise with electric vehicle systems and add significant value to the electrical work required for next-
generation roadway improvements," he said.
"Our vision is the transformation of roads into a digital infrastructure network that acts as a managed services platform for connected, electric and autonomous vehicles, as well as smart cities, IoT and other outdoor technologies," Sylvester said.
Providing wireless lighting
Unlike dynamic charging concrete, phosphorescent concrete requires no electricity because it gains its power from the sun's rays. It has potential for street lighting and a variety of other outdoor light systems that will cost the owner nothing to operate.
The technology was developed by researcher Jose Carlos Rubio at the University of San Nicolas de Hidalgo in Hidalgo, Mexico. He has shown results in light emitting from concrete or cement designed to absorb solar energy when the sun is shining and then radiate light at night.
The illuminating concrete is enabled at the material level: manufacturers modify the microstructure of cement or concrete, which includes sand, alkali, silica, industrial waste and water.
In standard cement, when water is added to the mix, crystal flakes result from the reaction to the presence of a liquid. These flakes block the usual absorption of solar energy. So, a company can modify this microstructure of cement to eliminate the crystals, enabling incoming light to penetrate into the cement. Additionally the cement is made phosphorescent, so that solar energy is absorbed and released.
The structure itself can store the light that it's absorbing—basically the electrons in the cement are in an excited state. They return to their normal state and begin emitting light at night when no more solar energy is being absorbed. Companies applying this system have found it can typically provide continuous light for about 12 hours without electricity.
The system still comes with some challenges. For one thing, most fluorescent materials have a lifespan of about three years and decay with the absorption of UV rays. Some researchers argue, however, that it can last considerably longer than that.
There are many application possibilities. On highways, for example, the surface could become a long ribbon of light. However, the system would need to be adjustable to prevent glare for drivers or cyclists. Other applications include sidewalks, trails or building facades. For ECs, it means building other lighting systems around these spaces.
So far, there are few commercial releases, but multiple pilots or tests are underway. There's also research in the works to include light-emitting cement with plaster and other construction materials for buildings.
The concept has been around for over 10 years, said Chris Sullivan, decorative concrete specialist with the American Society of Concrete Contractors, St. Louis. Light-­emitting concrete has been used successfully but remains somewhat unknown, he said, and on the periphery in the concrete market. The deployments that have gotten attention have all been in Europe.
In that area, Sullivan said, they have seen them used in public parks and walkways, residential patios, and in logos and designs in flat work and countertops that are visible only at night. In the long term, the material may be used to illuminate highways, bicycle lanes or walkways, wirelessly.