A confluence of policy, technology and investor interest is raising the profile of the all-electric commercial building. There's been traction for all-electric homes (see "The All-Electric Home Returns" in ELECTRICAL CONTRACTOR, August 2021), and now momentum is extending to other building types. Get ready for a newfound market in commercial real estate.
The Urban Land Institute's (ULI) 2021 report "Electrify: The Movement to All-Electric Real Estate" posits that all-electric commercial buildings offer technological, financial and environmental benefits, which can be applied to health and safety.
"We think electrification is an emerging trend in real estate," said ULI's Billy Grayson, executive vice president of centers and initiatives. ULI represents a global network of real estate and land-use professionals from the private and public sectors.
Grayson sees "first signals" in a move toward all-electric commercial buildings, notably in regulatory and investor arenas.
"You are seeing cities and counties in California and Massachusetts pursue gas [stove] bans," he said. "Discussions are going on in New York, D.C. and other cities, too. We see investors concerned with sustainability and more attention being paid to net-zero carbon building operation.
"For investors, if you sell your building in 10 years and the new owners hold on to it for 20 more, you may want to be net-zero from the start to future-proof what may become an all-electric market. Net-zero, all-electric properties are being designed and tested now," he said.
ULI cites Lendlease's 30 Van Ness in San Francisco, the Australian property developer's first all-electric, mixed-used development in the United States. It features 250,000 square feet of commercial office space, 330 condominiums (25% affordable housing), 4,000 square feet of retail and 5,000 square feet for public commons.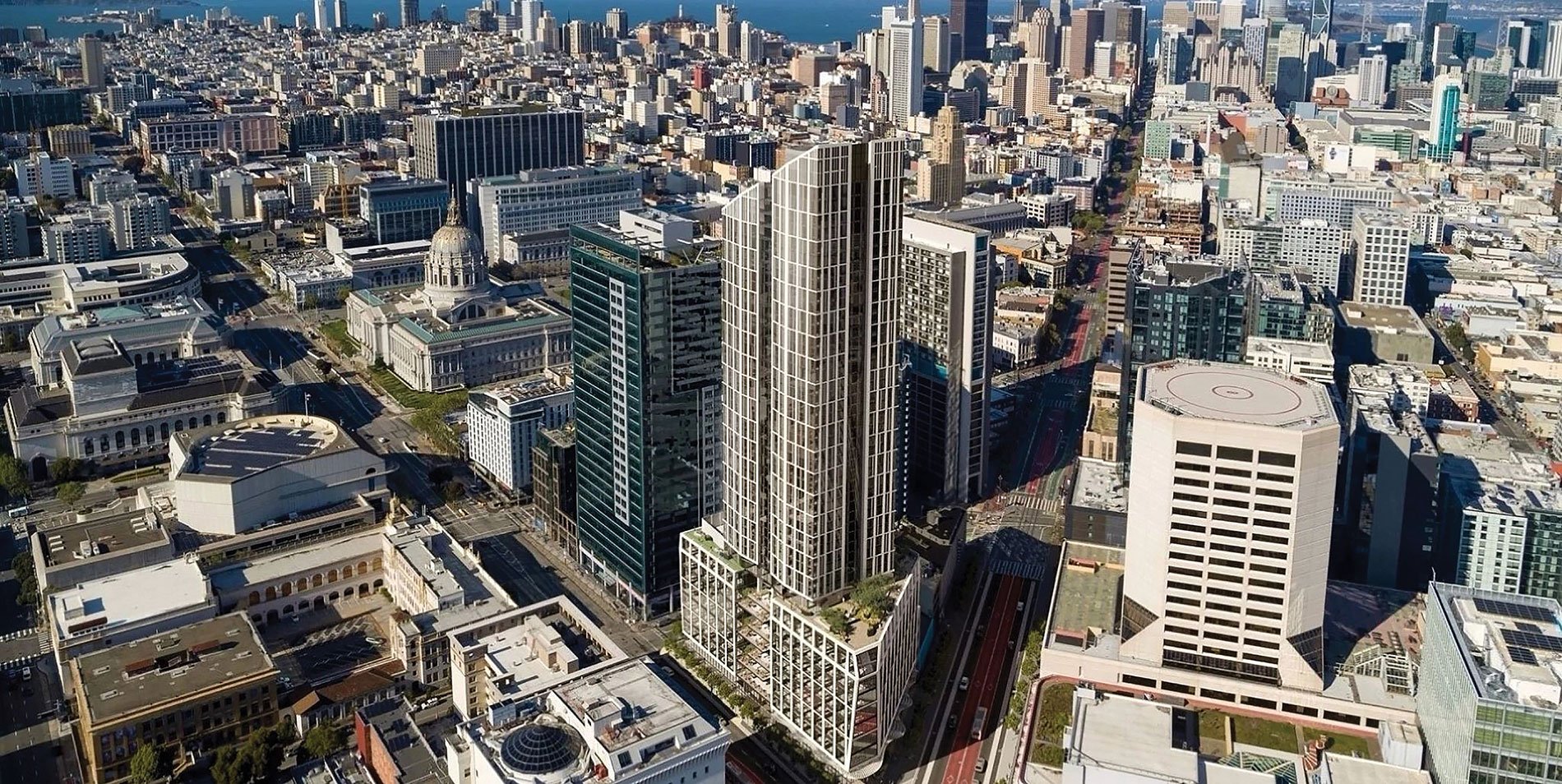 An all-electric rehab is the 100-year-old East Haven (Conn.) High School building, which was transformed into 70 high-efficiency, mixed-income housing units for seniors. This $31.7 million adaptive-use project, the Tyler, was a public/private partnership between Boston-based WinnCompanies, the city of East Haven and the Connecticut Housing Finance Authority. It earned EnerPHit, the Passive House certificate for retrofits.
ULI also cited Microsoft's corporate campus all-electric redevelopment in Redmond, Wash., and Adobe's addition of a new 18-story all-electric tower to its campus in San Jose, Calif.
Anish Tilak, manager of carbon free buildings for the Rocky Mountain Institute (RMI), views new construction and retrofits as two very distinct markets for commercial all-electric.
"For new construction, high-performance building design can be more cost-effective from an upfront cost perspective (efficient building and system design) as well as life-cycle cost perspective (reduced energy bills)," Tilak said. "In fact, new construction is not new to all-electric. Such commercial buildings have been built for years. Electric space-heating systems, such as variable refrigerant flow (VRF), have been common for years, too."
But now all-electric is getting a renewed look due to improved building technologies and developers are seeking deeper methods to reduce greenhouse gases (GHGs).
"For new construction in all building types, electrification is looking more and more attractive because of the increasing cost of construction and the avoided costs associated with not having to build gas infrastructure into a new building," Grayson said.
Tilak sees retrofit as an emerging all-electric market.
"All-electric delivers an operational cost savings and offers less pricing volatility than natural gas."
"Retrofitting existing buildings for all-electric is more complex and is a more challenging market for all-electric adoption. The challenge for commercial retrofit is the diversity of building types. One technology solution cannot be applied to all buildings, so it may be best to seek a scalable solution," Tilak said.
"You will find less complex buildings, too. Smaller building types (less than 100,000 square feet) might use rooftop all-in-one air handling systems units (ventilation and air heating/cooling). In this case, it is possible to swap out systems to all-electric units, removing piped natural gas for a heating coil," he said.
Heat pump growth
Market research group Guidehouse Insights shared in its 2021 report "Decarbonizing Heat in Buildings" that the decarbonized heating equipment market (heat pumps, VRF systems and hydrogen boilers) is expected to grow globally from $89.9 billion in 2021 to $156.5 billion in 2030 at a compound annual growth rate (CAGR) of 6.3%. While Asia is expected to remain the top market, North America will eclipse Europe, becoming the second-largest market in 2030, growing from $7.3 billion in 2021 to $18.9 billion in 2030 (CAGR 8.2%). Add to that a growing popularity of convection appliances and non-gas water heaters, and a new era in all-electric power comes into focus.
One hurdle being overcome is poor heat pump performance in colder winter climates. RMI reports advanced variable-speed, inverter-driven compressor technology is allowing heat pumps to perform well in temperatures below –10°F and operate at more than double the efficiency of resistance or gas systems below zero.
VRF systems are a different kind of heat pump that also help commercial buildings go all-electric. This multisplit technology features either an air- or water-cooled compressor that uses refrigerants to supply multiple indoor fan coil units. Popular in milder climates such as the Southeast, VRFs use long runs of refrigerant piping through buildings to provide heating and cooling. Refrigerant leakage can be a problem, but better installation and training, leakage sensor technology and the use of environmentally friendly refrigerants is helping mitigate these challenges.
Other tactics
Heat pumps are just one part of an electrification solution. Another involves reducing load through energy efficiency, including heat-recovery/energy-recovery ventilation, high-performance building envelopes, LED lighting and other digitized building controls. A more efficient building also means smaller heating and cooling equipment.
"An all-electric office or other commercial building could lead to net-zero operation, and a grid-interactive efficient building, too," Talik said.
Grayson added that when weighing decisions in going all-electric, owners or developers in the commercial space should look at longer time horizons when it comes to a building, including the equipment specified.
"Decisions made today are for the future," he said. "Net-zero carbon is an underlying piece of the electrification story, as is the expectation of a cleaner grid. We are moving from demand response to grid interactivity. If you become a GEB [grid-interactive efficient building], you work with utility rate structures and help relieve the grid from capacity issues during peak energy use."
Grayson suggested a commercial building could become a microgrid, generating enough power to island on-site solar, battery storage or a combination when the grid is stressed.
"This can be all part of going all-electric," he said.
The will to go all-electric
"Today there is a combination of robust climate policy and successful demo all-electric projects that validate the technologies," said Talik. "We [RMI] try to scale all-electric as the private sector assesses its merits. There is the will in both the private and public sector with hubs of commercial real estate in cities leading the way. From a policy perspective, cities across the country, regardless of geography or state-level politics, are advancing climate action strategies that include electrification. Leading states with decarbonization policy agendas include New York, Massachusetts, California and Washington."
Talik feels this momentum on a city level in raising the profile for all-electric commercial buildings. For example, New York is the latest and largest U.S. city to eliminate natural gas in new construction. Denver will require emissions reductions from all commercial and multifamily buildings (new or existing) through energy efficiency, renewable energy and building electrification by 2030.
From a policy perspective, cities across the country, regardless of geography or state-level politics, are advancing climate action strategies that include electrification.
"You have advocates from the private sector as well," Grayson said. "More companies have ESG [environmental, social and governance] personnel, and a corporate commitment to decarbonization. Developers see that prospective tenants or owners want to work in a building that achieves net-zero. Companies in the financial and technology spaces want to work in environmentally responsible buildings. Add in successful demo all-electric projects and robust climate policy, and all this helps set the stage for commercial all-electric and should accelerate its adoption."
In addition, Grayson sees financials moving to all-electric's favor.
"Debt investors are also signaling that investments that help get a building on a path to net-zero will get better rates and better terms than buildings that are not," he said. "Companies issuing green bonds that include electrification are seeing these debt issuances be oversubscribed and trading at a premium."
Building a business case with owners
While owners may understand the economics of lowering their energy bills through lighting and controls, reducing load for their HVAC, and creating a healthy indoor space for occupants, the future seems costly and theoretical. The question lies in how to make a compelling case for going all-electric. Grayson suggests persuading with different arguments based on the constituent.
"If the last time developers priced out heat pumps was in the 1990s, they are in for a pleasant surprise today," he said. "You are also saving on construction costs by eliminating a gas infrastructure. All-electric delivers an operational cost savings and offers less pricing volatility than natural gas. You can future-proof your building investment today and weather any progressive tightening of code. Then there is the positive environmental impact. You reduce a building's carbon footprint and GHGs. Currently, four states and 26 cities have implicit climate action plans. As this movement grows, it will be harder for gas buildings to meet GHG goals."
Header image by Shutterstock / Lerbank-bbk22 / Araya Wattanasetthanun / Macrovector.
About
The Author
GAVIN, Gavo Communications, is a LEED Green Associate providing marketing services for the energy, construction and urban planning industries. He can be reached at [email protected].
Email:

[email protected]