Illinois Gov. J.B. Pritzker has set an ambitious goal for his state—one million electric vehicles on the road by 2030. In the midst of these technological developments, Powering Chicago, a partnership between IBEW Local 134 and NECA, has found a seat at the table.

Powering Chicago is helping electricians and a range of stakeholders collectively plan for an effective rollout of EVs and their necessary infrastructure. A large part of that includes chargers in residential garages, at curbs for multifamily housing, in parking lots for retail and other commercial facilities and on municipal yards. While the IBEW 134/NECA effort talks up its electrician training, it's also serving as a resource and guide for others working to get an EV ecosystem right.
According to Elbert Walters III, executive director of Powering Chicago, "We too often work in our silos lacking input, perspective and solutions. I am a huge proponent of making sure that if you are trying to affect an industry, talk to the industry experts."
Outreach and other partnerships
Illinois's aspirations may not lead in the adoption of EVs. That title goes to California, where 100% of vehicles sold by 2035 must be zero-emission. But Illinois' 2030 goal reflects legislative, corporate and public forces coming together. The Rocky Mountain Institute estimates EVs will account for between 62% and 86% of global sales by 2030, according to projections released in September 2023. RMI points to promising developments, including cheaper batteries and major automakers committing 50%–70% of their capital and research and development budgets to EV development.
In another September report, data analyst firm Statista, in collaboration with Mobility Insights, addressed the rise in U.S. battery manufacturing plants. In 2021, the U.S. EV battery market stood at $3.9 billion. The study projects a compound annual growth rate of 12.15% between 2022 and 2027, or $8.16 billion by 2027.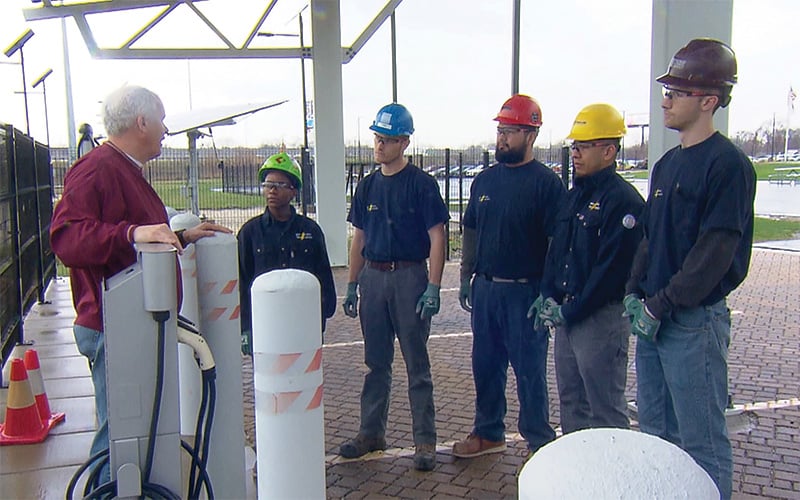 EV chargers and related infrastructure have been part of IN-Tech's training program for more than five years.
Public interest in EVs is also rising. Earlier this year, Consumer Reports stated a typical U.S. driver should save $6,000–$12,000 over the lifetime of an EV, compared to a similar gas-powered vehicle, including repair and maintenance.
Such EV table seating could quickly make quaint current statistics for domestic EV charging stations. The U.S. Department of Energy's Alternative Fuels Data Center reported that as of September 2023, the United States had an estimated 145,100 public charging ports (Level 2 and DC fast chargers) at more than 56,000 station locations.
Walters serves on the Illinois Alliance for Clean Transportation (IACT), which has tasked itself to bring EV stakeholders together to align efforts. Such stakeholders range from federal, state and local governments, to corporations, energy companies, small businesses and associations. For Walters, it is an opportunity to advise and represent the electrician's role in developing successful EV infrastructure at a time when substantial funds are being shifted toward EV installations across Illinois.
"There are funding lags (delivery) in this rollout of EVs, but that lag is giving us the time to plan and create a workable EV space in Illinois," he said.
While IACT describes itself as fuel agnostic, it recognizes that EVs are a viable and mainstream clean energy mode of transportation. As such, its commercial and municipal interests have expanded to include the residential market. Originally named the Chicago Area Clean Cities Coalition, IACT is now a statewide effort.
"We partner with electricians because they are integral to building out an EV infrastructure," said John W. Walton, chair of the IACT. "If an EV station is done wrong, which some of them are, you have a problem. Well-trained electricians must be part of the discussion."
Walton shared how IACT partnered with the utility Commonwealth Edison (ComEd) for a public webinar that drew 1,300 people.
"There is no question people want to know more about EVs. Sales are going up constantly," he said. ComEd is the largest electric utility in Illinois and the primary electric provider in Chicago and much of Northern Illinois.
"Utilities and the grid concerns are now part of the discussion," he said.
IACT hosts what it calls Green Drives, all-day events with EVs on display and dealers and manufacturers available for questions.
"We also present charger installation case studies where participants share their experience," Walton said. "One case study involved fleets converting to electric. Communities are eyeing or curious about converting some or all their municipal fleet to electric. Most do not have a clue how to go about this. That is why the work of our group and groups like Powering Chicago are becoming such resources. Lots of cities do not have the codes in place to allow stations. We worked with the city of Chicago's Mayor's Caucus to put codes in place."
Walton finds consumers are starting to buy EVs, installing Type 2 chargers for overnight charging (6–8 hours), although they will need 220V capacity.
"You hear horror stories of 'I do not need an electrician. We simply will not run the clothes dryer as we charge the car,'" he said. "Sometimes municipalities are not any better. You need a qualified electrician to do this right." IACT has also worked on advancing charger installations for multifamily properties.
"One solution we developed with ComEd was pulling power from the alleyways to put charging stations on the street," Walton said. "In addressing existing single-family, a lot of the historic bungalow-style homes in Chicago do not have enough power going to the garage to support a charger. Again, working with the utility, an idea was devised of dropping power into the garage and putting a meter on it. We are also working with 30 chapters of Clean Cities called Empower to explore with companies putting charging stations in for their employees, then offering after-hours access to the public."
Talking up expertise
Gene M. Kent is executive director of the IBEW-NECA Technical Institute (IN-Tech), an apprentice and journeyman training center and continuing education program in Alsip, Ill.
"In general, the curriculum for EV charging stations revolves around understanding power needs, charger types and the needed infrastructure to feed out to the charger." —Gene M. Kent, IN-Tech
"When we train in renewable energy, EVs are part of our curriculum and have been the last five or six years," Kent said. "In general, the curriculum for EV charging stations revolves around understanding power needs, charger types and the needed infrastructure to feed out to the charger. You are trained to recognize poor installation. And you know your code."
Kent describes Illinois and the greater Chicagoland area market in an early stage of EV ownership and charger installation, though some early installs go back as far as 15 years. Why the slow takeoff today?
"A lot has to do with building out the needed infrastructure, the charging capabilities around the area, what is available," he said. "People are also still concerned with travel distances of EVs, charging time at an EV charging station. Where are the stations? All this plays into people's EV purchasing decision-making. What is the availability of the actual EV if I want to purchase one? Price goes along with the decision, too."
Kent went on to say that groups such as IACT are helpful in bringing the right people to the table so that differing viewpoints, comments and concerns can be shared.
"If someone envisions a multicharger installation, say, in a public parking lot, we can discuss the power considerations. Solar could play a role in powering a charger. In this planning phase you can catch how one decision might affect another to its benefit or detriment," Kent said.
Understanding code requirements for EV chargers (if they exist in a locality) affects sizing, Kent said. There are also safety requirements affecting the charger's location. For residential applications, a charger might be inside a garage or outside, each place with different safety requirements.
"As more complex installations emerge, how do you install 30 car charging stations in one facility? How does that impact the grid? It is our job to make sure we educate in a way that brings clarity," he said.
Interconnection challenges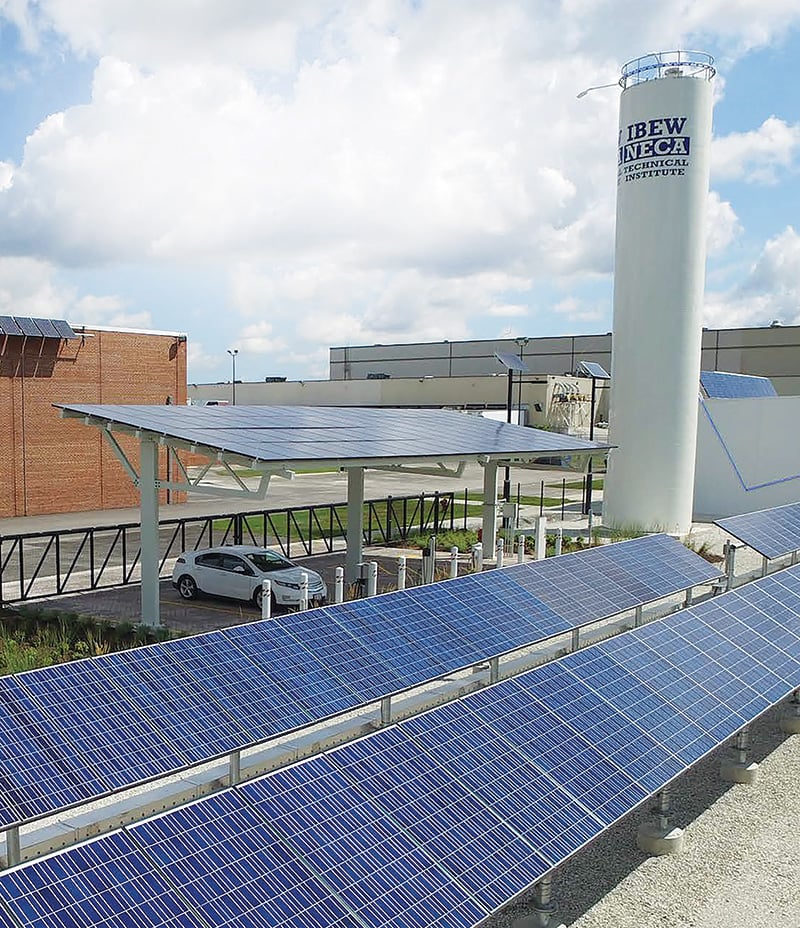 Walters said implementing the infrastructure needed to support a larger network of EV chargers won't be easy. The Illinois Department of Transportation is helping address that challenge with its National Electric Vehicle Infrastructure (NEVI) program, funded by the federal Infrastructure Investment and Jobs Act. Providing $148 million over five years to Illinois will help the state conceive an interconnected public EV charging network. NEVI has initially prioritized stations along the Illinois interstate highway system.
"We need to make sure charging stations are accessible and performing at their optimum levels," Walters said. "Customers have pulled up to charging stations only to find them inoperable in some way. Some of this is about ensuring the software communicating to other devices is working properly. Each charging company, be it ChargePoint, EVgo, Tesla and so on, has its own proprietary system. That is a challenge for installation and commissioning. Interoperability among charging systems would go a long way in making usage easier for the consumer, and a simpler installation for contractors. There needs to be a conversation around creating a national standard for chargers."
Tesla has recently allowed access to its network of chargers to help foster EV implementation at an expedited level.
"That's great, but it raises a different issue," Walters said. "The proprietary nature of Tesla's equipment means they have a different charge port than most vehicles. I need an adapter to use that Tesla port. There are a lot of barriers to EV adoption to remove."
"This world of implementing an EV infrastructure is like an onion," he said. "You keep finding new things to think about, more layers. There is still a hill to climb certainly, but when you start pursuing solutions collaboratively, you climb a little faster and smarter."
Illinois' goal to reach one million EVs is seven years away.
stock.adobe.com / unlimit3d/ daboost / powering chicago
About
The Author
GAVIN, Gavo Communications, is a LEED Green Associate providing marketing services for the energy, construction and urban planning industries. He can be reached at [email protected].
Email:

[email protected]