The rate of growth in new solar energy projects slowed in 2022 due to supply chain issues and import tariffs on products manufactured in some regions of China, but the technology still made up half of all new generating capacity for the year. As with wind, energy developers are increasingly looking to expand solar electricity generation to water-based and land sites. Floating photovoltaics (FPV)—occasionally called "floatovoltaics"—are gaining new U.S. fans and are already a popular business decision across Asia. The approach is poised to grow further as industry leaders work to standardize installations to reduce risks and costs.

In the "U.S. Market Insight 2022 Year in Review" report produced by Wood Mackenzie for the Solar Energy Industries Association, utility-scale solar installations fell by 31% over 2021's figure, with commercial and community deployment falling by 6% and 16%, respectively. In contrast, the residential market boomed last year, with 2022 seeing a 40% increase in installed solar capacity. The report states 6% of all U.S. homes now feature rooftop or ground-mounted panels.
The report's authors are bullish about this year's fortunes and anticipate overall growth of 41% over 2022's performance. And over the next decade, they expect total solar capacity to hit 700 gigawatts (GW)—almost five times the 141 GW reported at the end of 2022.
It's another option
FPV adds another option for commercial and community-scale developers in regions where land-based opportunities might be lacking. It's certainly a niche approach today, but proponents see significant room for expansion, especially as new land-based projects can face opposition due to possible related losses of farmland and trees.
Instead, FPV projects often target municipal and utility reservoirs and water-­treatment facilities, where the shade they create can help reduce evaporation and inhibit algae growth. Additionally, air passing between the water and the panels can help keep them cooler, which can boost their electricity output.
"I think, when you look globally, fundamentally it's about utilizing space that has only had one purpose," said Jason Wert, renewables and energy production market lead for RETTEW, a Lancaster, Pa.-based engineering firm that has become a leader in FPV design and deployment.
Land scarcity has been a big factor in FPV's early adoption in areas of Southeast Asia, according to Dana Olson, global solar segment leader for DNV, an international standards-development and quality assurance firm.
"It started out of the Asia-Pacific," he said, noting that DNV's introduction to the technology began in Singapore. "They didn't have any large spaces for ground-mounted PV."
Today, Olson said, other primary targets are situated in areas where water might be more prevalent than land, such as the Netherlands, especially those owned and managed by local communities.
"Most to date have been reservoirs or water treatment or processing facilities," especially among U.S. developments. "A lot of times, these areas are owned and maintained by a public authority. It's an opportunity to capitalize on that area and produce another revenue stream."
The largest FPV project to date is China's 320-megawatt (MW) Dezhou Dingzhuang solar farm, and a 600-MW plant now under construction in the Indian state of Madhya Pradesh. In the United States, the current size leader is an 8.9-MW installation in Milburn, N.J., at the New Jersey American Water Canoe Brook Water Treatment Plant, engineered by RETTEW. The electricity it generates will provide almost 95% of the plant's energy needs through a power purchase agreement with the developer NJR Clean Energy Ventures.
While still small by international standards, the Canoe Brook project is nearly twice the size of the previous U.S. record holder—perhaps an indication of how adoption of floating solar is increasing. The 4.8-MW California farm was installed on ponds at the city of Healdsburg's wastewater treatment plant. Located in Sonoma County, the heart of the state's wine industry, Healdsburg offers extensively treated municipal wastewater for agricultural use. Managers at the wastewater facility were struggling to keep algae at bay in two of their treatment ponds. As the city also serves residents with a municipal electric utility, floating solar provided a mutually beneficial opportunity.
"Healdsburg was looking to improve its recycled water by reducing algae growth and, as the electric service provider, looking for cost-effective renewable energy," said Terry Crowley, the city's utilities director. This project addressed both issues.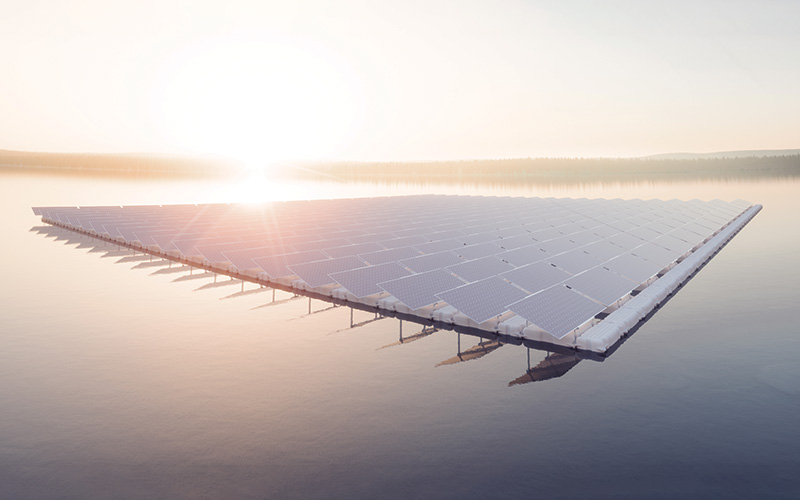 stock.adobe.com / malp
Growth in the United States
According to Crowley, Healdsburg planners had been watching FPV technology for several years, but economics only started to make sense in the last few years. The floating array is actually owned by the developer, White Pines Renewables, with the city purchasing the power output through a power purchase agreement.
In addition to relieving Crowley's staff from maintenance responsibilities, the arrangement allows White Pines to capture federal tax incentives that aren't available to government agencies. This, in turn, reduces Healdsburg's costs over the life of the agreement.
Production has been slightly higher than anticipated, Crowley said, with added benefits given the array's on-site location.
"Due to avoided transmission costs, the energy produced and delivered has helped reduce costs," he said, noting one upgrade his team would consider in any future installations. "If we were to build a second system, we would require battery storage to bring additional value to the project."
Floating solar costs more than similar-­capacity ground-mounted systems, according to Wert, but is comparable to rooftop installations. One added expense is the interest in using bifacial PV panels—that is, panels with solar cells on the top and bottom. These products are encapsulated by glass on both sides, so the underside is more protected from water and humidity. (There could be some added electricity generation from light reflecting upward on the water-facing panels, but that light could be limited by the walls of the floats on which the panels are mounted.)
Besides being bifacial, the panels in a floating array are just like those used in ground- or rooftop-mounted projects. The floats, though, are obviously unique to this application, and their manufacturers have made tweaks to their design as the technology has evolved.
"The basic concept of one main float per solar panel has remained constant in our 12-year history in floating solar," said Chris Bartle, sales and marketing director for the Americas at Ciel & Terre USA, Houston, a pioneer in the field manufacturing floats and mounting systems and engineering and installing entire arrays. "The main evolution has been to design and produce larger floats to accommodate larger panels and to continuously improve our anchoring technology."
How to anchor floating panels
How panels will be anchored is a significant engineering question in the design phase.
"For example, a project installed on salt water with high water-level variation won't require the same solution as a project on fresh water with low water-level variation," Bartle said. "Where there are high winds, significant water-level variation or significant currents, the anchoring system design is most critical. The higher the loads, the more anchors the system will have, for example."
Olson noted the water body's bottom also plays a role in mooring decisions: "If you are on a water processing facility or a pond, you'll have a liner, in which case, you obviously don't want to anchor through the liner."
In those cases, designers may opt for a shore-mounted solution or ballast or bottom anchors that won't affect liner integrity.
DNV has begun providing guidance to help developers address issues across varying site conditions. In 2021, the company published the floating solar industry's first recommended practice on the design, development and operation of FPV systems. Now, it's heading up efforts that could lead to industry-wide standards for design and testing of floats and mooring systems. These projects kicked off in fall 2022. They are expected to take 18 months and involve numerous manufacturers already participating in FPV installations.
"It's definitely an area of interest, to bring consistency, so costs can come down with scale— they're really meant to mitigate risk, with costs in mind," Olson said. "We're really quite engaged in ensuring these systems are resilient. Being a global entity, we're paying attention to what's going on in other regions. We don't want to reinvent the wheel."
So far, U.S. projects have been behind the meter, meaning they're developed to support the electrical loads of the facilities where they're located, rather than as utility assets.
"There's not really a cohesive solar market across the United States," Wert said, explaining some of the financial challenges standing in the way of larger projects in this country. "We have not yet seen floating solar to be competitive at utility scale." But, he added, "it's a great tool for the community and industrial space."
However, Wert is optimistic about this technology's fortunes in the future.
"We get calls each week. There are limited places it works in this country—but if you have that, it's a fantastic system. Especially where you're limited in property, it gives sites a second look at renewable energy," he said.
Bartle is equally enthusiastic about FPV's growth potential over the next five years.
"With over 30 MWs installed in the United States so far, we believe developers and municipalities have come up the learning curve on floating solar and are ready to scale," he said. "The preliminary designs and quotes we are being asked to prepare these days are for much larger systems, sometimes in the hundreds of megawatts. Floating solar just allows our customers to consider one more surface area that can now support solar for their customers—ground-mount, rooftop, carports and now floating solar."
Header image: stock.adobe.com / ungvar