Whether for ease, advancement or a little of both, commercial electric furniture is becoming commonplace. What may be less known are existing standards to help inform installation and the electrical layout.

What began with a power strip for a desk lamp or a fluorescent troffer under a cabinet hutch has evolved. Desk surfaces that advanced with an attached electric power outlet now sport a USB port, wireless charger, embedded LED lighting and even cup warmers. The utility in office furniture has extended to furnishings for the hotel lobby, airport lounge, hospital waiting room, college lecture hall and the home.
The Business and Institutional Furniture Manufacturers Association (BIFMA), Grand Rapids, Mich., develops furniture standards in association with the American National Standards Institute (ANSI). Underwriters Laboratories, now UL Solutions, Northbrook, Ill., has its own UL furniture standards, which are also ANSI referenced.
BIFMA and UL cross-reference each other, providing consistency and guidance for electrical specifiers, designers and installers. BIFMA writes the industry standards addressing performance, safety, product life and associated testing procedures. UL certifies electrical and fire hazard product safety and incorporates BIFMA's standards in UL lab testing. UL offers a BIFMA Performance Certification Program for interested customers.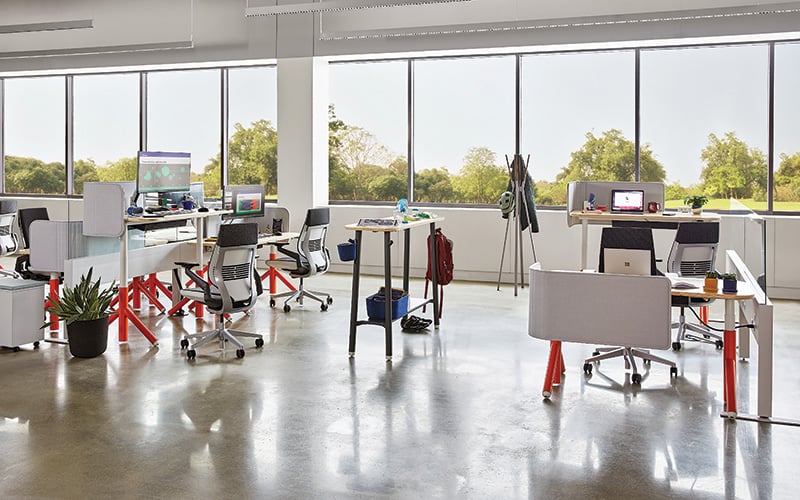 Electrically powered, height-adjustable desks are fairly commonplace in today's offices.
Steelcase
For BIFMA, furniture lifespan is a key requisite. The association has authored durability testing commonly used by the furniture industry. Regarding powered furniture, BIFMA has authored durability testing that addresses actuators and robotic sensors (e.g., adjustable sit-stand desks). UL certification targets the safety and operability of electrical components including actuators, motors, integrated luminaries, electrical outlets and IoT connectivity.
Randy Carter is the director of global product safety and compliance for Steelcase, Grand Rapids, Mich., a global commercial and institutional furnishings design firm. "The BIFMA standards are fundamentally important in our industry, but most users aren't familiar with them," he said. Electrical contractors may find it helpful to get up to speed.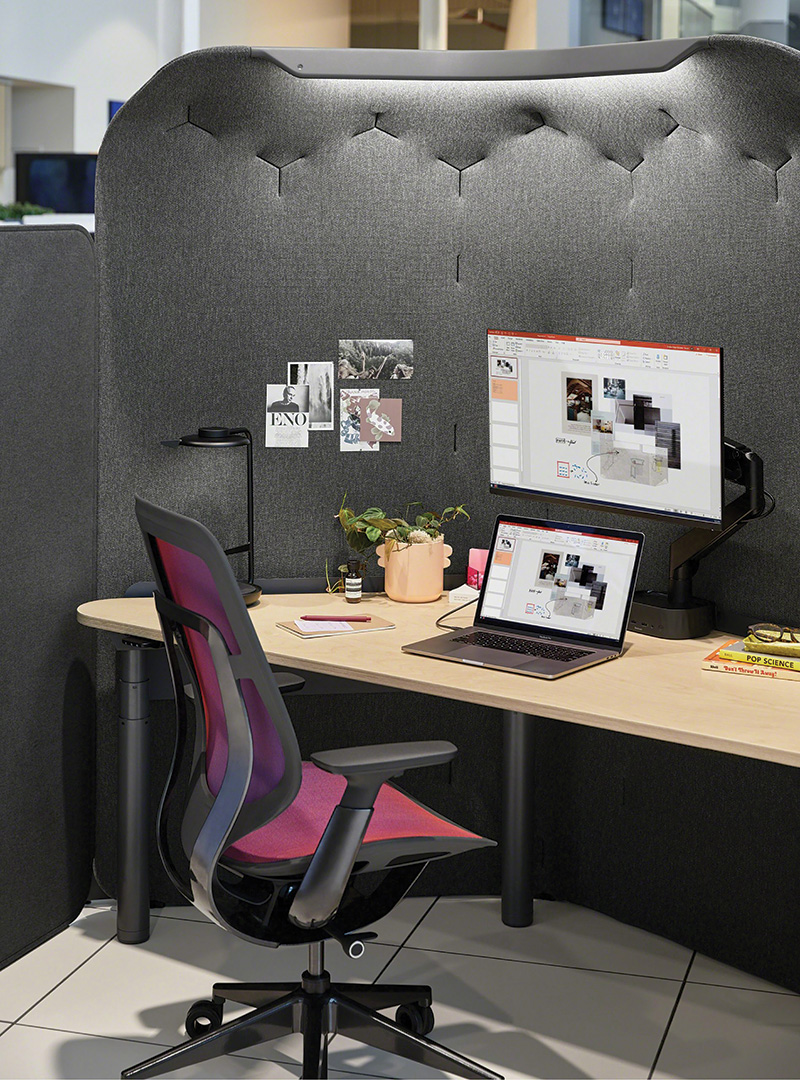 The Steelcase Flex Personal Space system features an integrated light in the privacy wrap's canopy with three illumination levels.
Steelcase
Overlap between standards
BIFMA emerged as a trade association in 1973 and began writing standards. By 1980, the organization became an ANSI Approved Standards Developer. Now celebrating 50 years, BIFMA standards, while not mandated, set a level of quality performance for furniture manufacturers.
Carter added that more than one safety standard can be applicable for office furniture that requires electricity to operate or that integrates electrical products to distribute power to users.
"Portions of the UL 1286 [Standard for Safety of Office Furnishing Systems] criteria for minimum strength and stability were in large part adopted from the ANSI/BIFMA standard for office panel systems. The ANSI/BIFMA standards go further by including mechanical durability requirements to address years (often 10) of useful product life," he said.
Applicable UL standards, including those that apply to flammability or electrical safety, are typically cited.
Kevin Miller is the principal engineer for furniture at UL Solutions. Like BIFMA, UL's testing and standards address powered and nonpowered furnishings.
While broad in scope, UL 962, Standard for Safety of Household and Commercial Furnishings, covers powered furniture including desks, chairs, beds and audiovisual motorized carts. According to Miller, it was a standard created in the late '90s for furniture. UL 1286 came later, covering the safety of office furnishings.
By 2020, UL 2999, Standard for Safety of Individual Commercial Office Furnishings, emerged—a single streamlined standard driven in part by powered furniture that could tap into main power distribution and low-voltage architecture. Other related UL standards include UL 970, Standard for Safety of Retail Fixtures and Merchandise Displays, and UL 962A, Standard for Safety of Furniture Power Distribution Units, which is directed at cord-and-plug-connected power. UL Solutions does product testing and has a program offering manufacturers, suppliers and retailers furniture testing equipment and accessories for their own in-house programs.

Desks now regularly feature integrated power options.
Steelcase
Returning to product durability, ANSI/BIFMA have crafted furniture stress tests, including test specifications and mechanical drawings, if applicable. UL applies these stress assessments in its testing.
"When you look at a mechanized, height-adjustable desk, actuators must support a minimum load," said Anthony Serge, BIFMA's technical director for safety and performance. "If someone sits on the corner of their desk, you want to make sure that motors aren't going to back drive and cause the table to tilt.
"BIFMA test standards are designed to simulate real-life conditions that can impact product life, safety and durability. BIFMA does not vet [manufacturer] claims, but our standards do set a baseline for the industry. Some UL standards are cited in an annex within a BIFMA/ANSI standard," he said.
Some electrical contractors may be familiar with the National Electrical Code Section 605.2 that for 30 years has covered cubicle panels, partitions, study carrels, workstations, desks, shelving systems and storage units (mechanically and electrically interconnected) that form an office furnishing system. Office panel cubicle systems have often incorporated wiring harnesses for power distribution to integrated lighting and user devices. UL 1286 addresses interconnected office cubicle systems in more detail.
Powered furniture standards
When it comes to powered furniture, the BIFMA standards that see the most overlap with UL include ANSI/BIFMA X5.5-2021 Desk and Table Products (e.g., UL 962 and UL 1286 standards cite BIFMA test and criteria for applying loads for strength of the mechanical structure); and X5.6-2016 (R2021) Panel Systems (e.g., verification of the wiring in the panel channels to meet the minimum requirements of a UL 1286 system).
"Adjustable-height desks have safety requirements in UL 962, which also adopted some minimum strength requirements from the ANSI/BIFMA X5.5 Desk and Table Products standard," Carter said. "BIFMA X5.5 goes further and includes extensive mechanical performance and durability requirements. The UL standards focus on safety requirements to minimize risk of potential electrical shock and fire hazards."
Miller explained that BIFMA standards have a reference or single line requirement that says if that furniture has electrical features, it should be evaluated to UL 962 or UL 1286, depending on the product.
"Using UL 962 as an example, requirements include what kind of mechanical safety devices and electrical safety devices must be present, requirements for wiring enclosures and electrically moving parts," he said. Other UL standards can interplay with BIFMA, too, certainly as a reference.
"If you have a wireless charging device built into a work surface, there are UL standards for wireless charging devices," Miller said. "That component would need to be evaluated to that standard. It's like the lighting that's built into that product. It needs to comply with UL lighting component standards (e.g., the driver). And so, relevant component standards are integrated into the overall furniture system."
Outdoor commercial furniture
BIFMA is in the process of writing a standard for outdoor commercial furniture. Serge said this furniture might incorporate lighting in the sides of chairs, serving the same purpose as stadium or movie theater seating to help navigate in dim light during twilight or early morning hours. Powered desks might offer similar features as their indoor cousins.
"Products in southern Florida are going to be exposed to humidity and salt, [and those in] Arizona will be exposed to very high heat," Carter said. "Northern climates offer ice and freezing temperatures. Developing a test approach to work for furniture that's made from so many different materials and now must stand up to so many different conditions has been a real challenge. Regardless, outdoor furniture is an expanding new market."
UL Solutions has what is called "an outline of investigation" for outdoor furniture (UL 4041). "Right now, all of the electrical requirements still refer back to UL 962," Miller said. "For example, regarding receptacles that are attached to a table, the NEC and UL 962 both say if receptacles are used in an outdoor location, they need to have ground fault circuit protection. Beyond that, there are rain tests and water exposure tests in UL 962. The office equipment used outdoors would fall back to manufacturer certification, be it a computer, monitor or other device."
Both organizations are beginning to address privacy pods in offices.
"Pod guidelines were published a few years back," Serge said. "A committee developed some best practices as a starting point, but soon realized we need to build a standard as their [pods] popularity increased ... during the pandemic."
Carter heads the subcommittee. For UL, it has some initial requirements for pods in UL 962, but as Miller explained, discussions are also revolving around what might fall outside UL 962 (e.g., ventilation). He also serves on the subcommittee developing the Personal Privacy Pods BIFMA standard.
Standards serve to guide manufacturers as they develop products, factoring in the end-user and installers.
"When our teams design a product, they have certain safety criteria to meet," Carter said. "We must think about the people who assemble, install or service the furniture. As part of our product development process, we sometimes have electricians come in, read the instructions, and then do the assembly. They then give us feedback on what was easy, what was problematic or could be better designed."
Serge added that furniture standards should provide peace of mind to installers, contractors and end-users.
Header image: Privacy pods are growing in popularity. Often mobile, pods are truly the latest in electrified furniture. Image by Steelcase.
About
The Author
GAVIN, Gavo Communications, is a LEED Green Associate providing marketing services for the energy, construction and urban planning industries. He can be reached at [email protected].
Email:

[email protected]